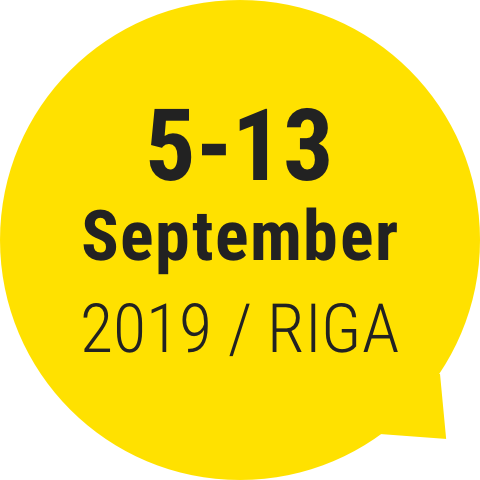 Programme
1 : 1
Various artists
5 - 13 September 15:00-20:00, a house on Aristida Briāna street 13 | Free entrance
The exhibition of new works by students and recent graduates at the Scenography Department at the Art Academy of Latvia looks at school and learning as a never-ending process.
Works
-8
Homo Novus Still Studying
Student vs equation 1:1. Who's winning?
Laura Jančauska and Krišjānis Elviks
XXX-XXX-XXX. Door to the Unknown
This collaborative work explores the idea of truth and our choice to reveal, hide or turn away from it.
Paulīne Kalniņa
Beyond School
The work is inspired by notes written on the walls of the house on Briāna street, and horizon as a place our knowledge ends.
Nikola Ščadro
Memory Process
The memory net binds us into collective paradigm that defines reality through dimension of time. Remembering proves our existence and belonging. Are we allowed to forget not being forgotten by others?
Madara Mela
Present
Tomas Venclova has said: We know nothing except our past. There is nothing else to think about." We have to step back in order to move forward.
Kristina Rezvōhh
Between Walls
What would happen if walls would be able to listen and absorb the words, and people would be able to hear through the walls? What would happen if we could actually hear each other?
Toms Jansons
Connection
Exhibition is part of the scenography and performance space programme B13 at the former school building on Briāna street 13 that looks at scenography as an autonomous and collective artistic practice. It's the activity of the international co-operation project EMERGENCE supported by the EU programme Creative Europe.
Credits
Authors: -8, Krišjānis Elviks, Laura Jančauska, Toms Jansons, Paulīne Kalniņa, Madara Mela, Kristina Rezvōhh, Nikola Ščadro
Production: Latvijas Jaunā teātra institūts
Image: Toms Jansons
A house on Briāna street 13
Supported by