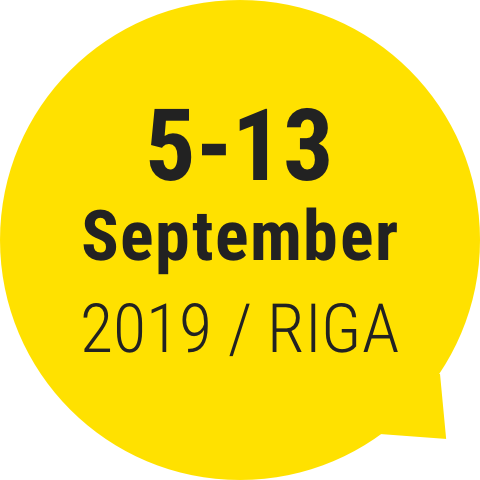 Festival centre
Festival Centre at K.K. Fon Stricka villa
Aristida Briāna street 9
Open from 12:00 on 5-13 September
Info and ticket point open every day at 12:00-18:00
!Closed on Friday 6 September!
All Festival centre events are free of charge.
Thursday 5 September
Festival opening with DJ Dani داني (Brussels)
Friday 6 September
Festival centre is closed!
16:00 House on Aristida Briāna street 13
On spies, ghosts and Japanese in Riga
Director Akira Takayama (Tokyo) in conversation with publicist Santa Remere (Riga) on making of "Heterotopia Riga" and his artistic practice
Saturday 7 September
14:00
The Borders of a Festival
Starting from the concept of Heterotopia, resonating in one of the projects of Homo Novus festival, Daniel Blanga Gubbay, curator of Sonic Dawn and co-director of Kunstenfestivaldesarts Brussels shares a reflection starting from the notion of the festival as 'other space'. Through the categories of Exception, Excess, Guest and Host this talk opens a conversation on the idea of the festival, and its possibility to challenge its spatial and temporal borders.
15:30
Meet participants of Possible Futures Forum – young performing arts curators and producers who are gathering in Riga to discuss artistic, ethical and political aspects of their profession.
Sunday 8 September
15:00
Staging an Audience
Scenographer and theatre maker Dominic Huber (Zurich) will present wide range of projects that show various levels of observation, participation and immersion for an audience. His theory is that by structuring space and time as a director or scenographer you'd need to script and direct the part of the audience as much as the performers and actors on stage. Dramaturge and former artistic director of Prague Quadrennial Sodja Lotker (Prague) will join the conversation.
Monday 9 September
14:00
Ohh (Tips and Instructions)
Work in Progress presentation by theatre maker Jānis Balodis (Riga), the second year student at DAS Theatre Amsterdam.
16:00
Talk by Walid Raad
In this artist talk, Walid Raad (New York) will introduce his Sweet Talk and Scratching on Things I Could Disavow (2007-).
21:00
DJ Kristaps Kuplais
Tuesday 10 September
21:00
DJ Ilmārs Šlāpins
Wednesday 11 September
21:00
DJ set by artists participating at the Festival School
Thursday 12 September
14:00
Life As We Know It
Work in Progress presentation/ sharing by Maija Hirvanen and Juha Valkeapää (Helsinki) after creative residency in Riga. Coming from the fields of choreography and performance, Juha and Maija have followed each others work for a decade, and are now making their first joined project together. "Our ability to start something new throughout our whole life depends on our capability to renew ourselves", tell the artists about this project.
16:00
Festival as School. School as an Artistic Practice.
Meet the Festival School participants to discuss their School experience and alternative ways of learning, knowledge exchange and collective artistic practice.
Friday 13 September
22:00
Festival Closing Party with MAD AND DJ Version