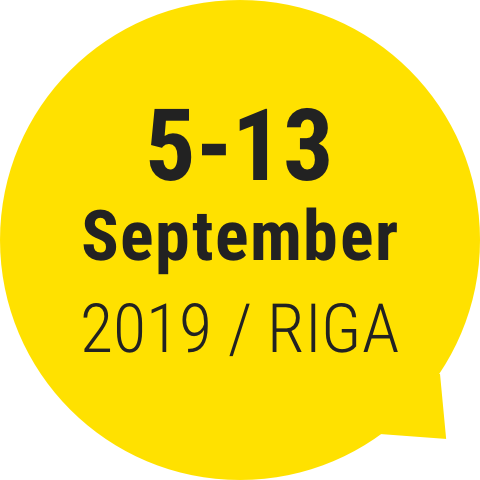 Programme
Fruits of Labor
Miet Warlop (Ghent)
11, 12 September 20:00, Riga Film Studio, Šmerļa iela 3 | € 15 / € 10
'Fruits of Labor' is a performance, a concert, and an art exhibition, all in one. The White Cube, the Black Box, sets of drums, and meshes of wiring is the spatial frame used by the author, three musicians, a roadie, and various objects. If prior to this visual art was the glue that held Miet Warlop's live performative image together, now the flow of the show is guided by the rhythm of drums in an interplay with the material world.
Here the drums are set off by raindrops, a jet of paint, or by a person, but they can also play themselves; the White Cube becomes a bull, a rotating artwork stand, a dictator's podium, a cross. The abstract parade of imagery and objects is the artist's reaction to the crumbling world, an attempt to challenge idols and control with destructive chaos that is nevertheless filled with freedom and glitter. The show ends with a question, "Tell me, is this the world I belong to?"
Those who have seen the show say it works as a painkiller for those who have been wounded by this world.
About the artist
Miet Warlop is a Belgian visual artist, who lives and works between Ghent, Berlin and Brussels.
Miet Warlop's work involves a blend of disciplines. She creates animated sculptures, 'living images', performative actions and improvised concert situation, assembling them into unusual forms that investigate the device and dramaturgy of theatre.
The texture of things is central to Warlop's work, located somewhere between absurd theatre and outlandish tableaux vivants, as is creation and destruction against all economic reason.
Credits
Concept and direction: Miet Warlop
Music and performance: Miet Warlop, Joppe Tanghe, Wietse Tanghe, Tim Coenen, Tamsin Brugge
Assisted by: Barbara Vackier, Ian Gyselinck, Sander Vos
Costumes: Sofie Durnez, Karolien Nuyttens, An Breugelmans
Technical Team: Hugh Roche Kelly, Niels Antonissen, Mathias Batsleer
Sound Engineers: Saul Mombaerts, Bart van Hoydonck
Light Design: Henri Emmanuel Doublier
Production: Tamsin Brugge
Coordination: Elke Vanlerberghe
Producer: Irene Wool vzw (Ghent)
Images: Reinout Hiel, Remi Angeli
Supported by

* Reduced price for students, seniors, people with disabilities