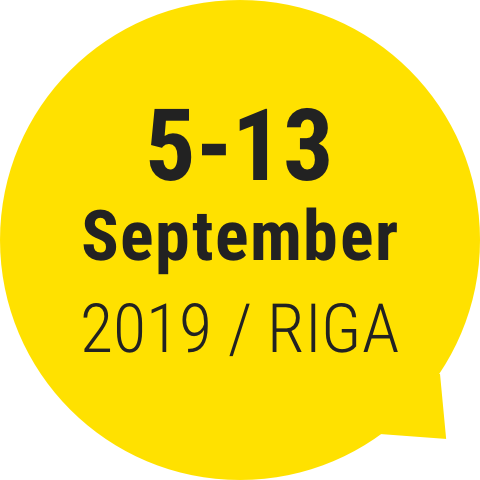 Programme
Klapping
Ahilan Ratnamohan (Antwerp)
5 September 18:00 Riga Secondary School No 6 | 6 September 18:00 RIga Secondary School No 31 | 6 September 1=21:00 Riga Secondary School No 6 | Free entrance
Before arriving at contemporary dance, the choreographer Ahilan Ratnamohan was a semi-professional footballer, something that has left indelible marks on his body language, his sense of rhythm and space. He met dancer Feras Shaheen during a football match in Sydney in 2017.
This summer both of them will spend several weeks in Riga visiting local sports grounds and getting to know their users. They are going to meet football professionals and amateurs, work with young people and together with them examine footballers' movements. Can they be turned into dance?
The artists are sure they can, and at the end of their residence invite us to their show 'Klapping', a collective ritual where everyone will be initiated to a new form of urban movement, a street dance drawing its roots in football. Between fiction and reality, this performance stems from the simple desire of a football player to dance.
About the artist
Ahilan Ratnamohan is a performance-maker working with unconventional forms and performers to create cross-disciplinary pieces. He is inspired by sport, film and linguistics.
In his early twenties Ahil attempted to make a career as a professional footballer spending time in the Netherlands, Germany and Sweden. He began concentrating on contemporary performance in 2007, collaborating with a range of companies in Sydney, most extensively with Urban Theatre Projects, Branch Nebula and Martin del Amo.
Since 2012 he has been based in Antwerp, where he began to lead his own projects. In this period his work has toured throughout Europe and Australia; his work with a group of West African footballers on Michael Essien I want to play as you… has led to the formation of a new performance troupe, the 'Star Boys Collective'. Ahil is a resident artist at Monty Kultuurfaktorij in Antwerp.
Credits
Idea and performance: Ahilan Ratnamohan
Performance: Feras Shaheen
Dramaturgy: Kristof Persyn
Design: Anne-Catherine Kunz
Commissioned by Campbelltown Arts Centre
Co-production Nuit Blanche
Partner Monty Kultuurfaktorij, CO Luchtbal
Production: Sandra Lapkovska, New Theatre Institute of Latvia
Supported by Magic Carpets platform and EU programme Creative Europe
Image: Joshua Morris
Riga Secondary School No 6
Riga Secondary School No 31
Riga Secondary School No 6
Language
In English and Latvian
Address
Riga Secondary School No 6
Riga Secondary School No 31
Participatory outdoor performance
Supported by