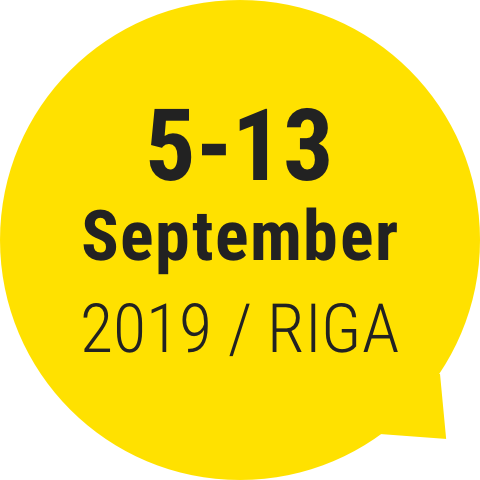 Programme
Heterotopia Riga
Akira Takayama (Tokyo)
5, 6, 9-13 September 16:30-19:00, Pils laukums 2 | 7, 8 September 14:00-19:00, Pils laukums 2 | € 10 / € 7
'Heterotopia project' by Japanese director Akira Takayama discovers 'other' places in the real world to gain a critical perspective on the society and history. The concept of Heterotopia was introduced by Michel Foucault, designating 'grey' zones that work on a different logic than the predominant one.
With his new show in Riga, Akira Takayama continues the Heterotopia series which he had already realized in Tokyo, Taiwan, Athens, Beirut, and Abu Dhabi. Each performance is adapted for each specific city and its historic context, creating a new memory of it.
Equipped with a guidebook and a little radio, 'Heterotopia Riga' spectators visit six addresses in the city and listen to the stories written by a Japanese or a Latvian writer.
These are places where traces of the most well-known Japanese spy Makoto Onodera remain. He used to live in Riga in the 1930s. While Onodera is barely known in Latvia, in Japan he is sometimes referred to as 'the spy of all spies'. One of his greatest achievements was a report on the Yalta Agreement, which tried to prevent what came to be the devastating end of the Second World War for Japan.
The show examines the phenomenon of espionage, which in all times and ages has been creating hidden networks throughout every society.
'Heterotopia Riga' is a listening performance – walk in the city centre that includes several stops and lasts 2 to 2,5 hours. We recommend it as a solo experience. To book your slot please choose your start time between 16:30: and 19:00 on weekdays and 14:00 and 19:00 on the weekend. The performance ends within 15min walking distance from the starting point at Pils laukums 2.
About the artist
Japanese theatre director Akira Takayama creates projects that challenge the conventions of traditional theatre. Takayama's projects expand and enrich the audience's experience through participation in performative events that treat entire cities as stages. In 2003 Takayama founded 'Port B', a project-specific theatre collective aimed at fostering collaborative relationships with artists and a diverse range of artistic interventions, including installations in urban space, experimental social projects, and performative tours and lectures.
Credits
Concept & Direction: Akira Takayama
Writers: Pauls Bankovskis, Koma Ikoi, Erika Kobayashi, Andris Kuprišs, Keijiro Suga, Inese Zandere
Narrators: Mike Collier, Peteris Krilovs, Aigars Rozenbergs, Leva Smite, Elina Vaska, Baiba Broka, Pauls Raudseps
Research, Guide Texts: Santa Remere
Guide Book Design: Normunds Ozols
Translation: Ieva Leišinska-Geibere, Azusa Suga, Keijiro Suga
Sound Record & Editing: Edgars Skrāģis
Technical Support: Ansis Imaks
Production Management, Assistant direction: Saki Tanaka
Producer: Sandra Lapkovska, New Theatre Institute of Latvia
Production Assistant: Ieva Briede
Volunteer assistants: Didzis Ruicēns, Krista Kaufmane, Ēriks Dekoneks, Anete Dance, Silvija Indriksone, Kaspars Zborovskis, Kristiāna Bērziņa, Artis Krūmiņš
Many thanks to: researcher Shingo Masunaga, Latvian National Opera and Ballet, Ministry of Economics and cafe Divi Labi, "Rīgas nami" Ltd., Riga Passenger Terminal, State Real Estate and LNV Ltd., Hotel "Laine"
Image: Port B
Related events
On Ghosts, Spies and Japanese in Riga. Akira Takayama in conversation with Santa Remere
6 September 16:00 in the house on Briāna street 13
In English, free entrance
Language
In English or Latvian
Address
Not recommended for people with walking difficuties.
Supported by


* Reduced price for students, seniors, people with disabilities