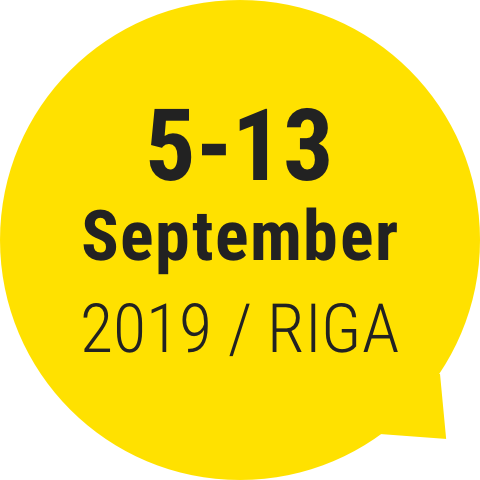 Programme
Les Louvres and/or Kicking the Dead
Walid Raad (New York)
7, 8 September 17:00 and 20:00, Hanzas Perons, Hanzas iela 16a | 9 September 20:00, Hanzas Perons, Hanzas iela 16a | € 15 / € 10*
Walid Raad is a Lebanese visual artist who until 2004 worked under the name 'The Atlas Group'. Under the guise of this fictional collective, Raad would often act as an anonymous guide during his own exhibitions, revealing to the viewers deeper layers and interconnections behind the exhibited objects and stories.
'Les Louvres and/or Kicking the Dead' follows the same practice: Raad takes visitors on a special tour of his exhibition in which real events, fiction and the artist's commentary are all intertwined. In one and a half hours viewers travel from the First World War museum in Belgium to the Louvre in Abu Dhabi, making a stop in New York.
The stories behind the characters and images – art objects and their shadows, a museum guard, construction workers' sweat, a secretive art advisor to Sheikh Khalifa, and the two tallest buildings in Manhattan – attempt to solve a real-imagined mystery, turning the performance into intriguing detective story.
About the artists
Walid Raad is a contemporary Lebanese artist based in the US known for his sharp, critical, committed, and often witty perspective on the complexity of the Lebanese Civil War (1975–1991) and on developments in the art world of the Middle East. Working across differentart fields, Raad probes the function memory serves in forming the history of war and art. Raad uses video, photography, multimedia installations, performances, and essays.
Walid Raad is the recipient of the 2011 Hasselblad-Prize, the 2007 Alpert Award for Visual Arts, and the 2007 Deutsche Borse Photography Prize. His works have been exhibited at Documenta 11 in Kassel, Germany, The Venice Bennale in Venice, Italy, The Whitney Biennial in New York, The Ayloul Festival in Beirut, Lebanon, as well as other events and museums throughout North America, Europe, and the Middle East. He currently lives in New York, where he is an associate professor at the Cooper Union School of Art.
Credits
Conceived and performed by Walid Raad
Project management: Celeste Rottiers
Technical direction: Herman Sorgeloos
A coproduction with steirischerherbst; Buda / NEXT Festival; HAU Hebbel am Ufer; Fast Forward Festival / Onassis Cultural Centre-Athens; Le CENTQUATRE-PARIS; Festival d'Automne à Paris
With support from Sfeir-Semler Gallery (Hamburg/Beirut), Paula Cooper Gallery (New York)
Thanks to Jack V Sturiano, Marcella Lista, Belal Hibri, SITU Studio, Christopher Kissoon, Raphael Fleuriet, Karolien Derwael
Image: Elina Giounanli
Related events
Talk by Walid Raad
9 september 16:00, Festival centre at Fon Stricka villa
In English, free entrance
Supported by



* Reduced price for students, seniors, people with disabilities