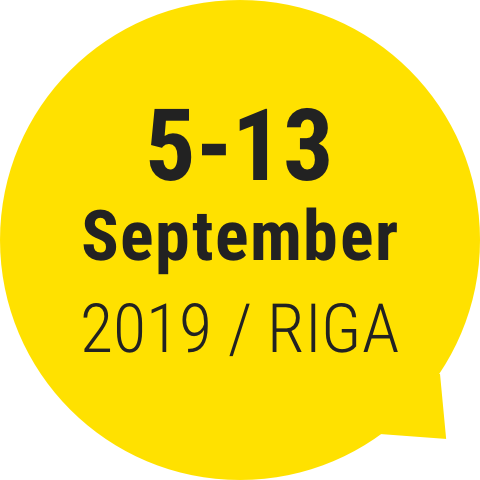 Programme
Ghost Writer and the Broken Hand Break
Miet Warlop (Ghent)
13 September 21:00, Riga Circus, Merķeļa iela 4 | € 10 / € 7
A broken handbreak is a classic motif in nightmares relating to loss of control, inability to stop, heading towards calamity. On the other hand, it's also a metaphor for freedom and speed. However, does a movement have only one direction, forward?
The latest production by Miet Warlop is a hypnotic dance ritual, a night of improvised music and poetry reading. Together with two musicians, the artist crosses over the border between corporal, spatial and situational control and the loss thereof.
About the artist
Miet Warlop is a Belgian visual artist, who lives and works between Ghent, Berlin and Brussels.
Miet Warlop's work involves a blend of disciplines. She creates animated sculptures, 'living images', performative actions and improvised concert situation, assembling them into unusual forms that investigate the device and dramaturgy of theatre.
The texture of things is central to Warlop's work, located somewhere between absurd theatre and outlandish tableaux vivants, as is creation and destruction against all economic reason.
Credits
Concept and direction: Miet Warlop
Music and performance: Pieter De Meester, Wietse Tanghe, Joppe Tanghe, Miet Warlop, Midas Heuvinck
Lyrics: Raimundas Malasauskas, Miet Warlop, Pieter De Meester
Technique and production: Niels Antonissen, Mathias Batsleer
Sound Engineer: Bart Van Hoydonck
Light Design: Henri Emmanuel Doublier
Costumes: Karolien Nuyttens
Produced by: Miet Warlop /Irene Wool vzw & NTGent
Co-produced by: Arts Centre Vooruit Gent, HAU Hebbel am Ufer – Berlin (DE)
Image: Reinout Hiel
Supported by
* Reduced price for students, seniors, people with disabilities