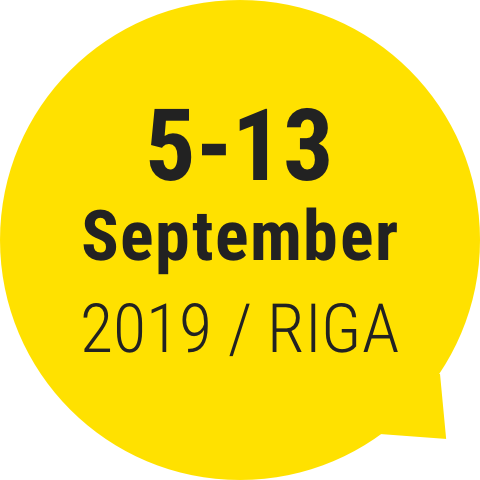 Programme
HALL07
TAAT and Festvial School artists
10 - 13 September 15:00-20:00 A house on Briāna street 13 | Free entrance
Festival School is a regular Homo Novus activity built on a different topic and methodology each time. This year the School works with memory of place and explores school as an artistic practice. It gathers young directors, choreographers, architects, scenographers, musicians, educators and performance artists from Prague, Reykjavik, Paris, Riga, St. Petersburg, Rotterdam, New York and other cities.
Together with TAAT collective, dramaturge Sodja Lotker and set-designer Dominic Huber artists will inhabit a former school building on Aristida Briāna street 13 and practice scenography as a collective effort. Inspired by the memory of the building, they will create a new spatial installation HALL07 – a theatrical experience for two people who haven't met before and are now invited to encounter each other through a sequence of spaces and scenes.
TAAT is a collective of Dutch theatre maker Gert-Jan Stam and Belgian architect Breg Horemans operating on the cutting edge of theater, architecture, visual art and design. HALL33 is one of their lasting projects aiming at creating a series of 33 sub-projects that work towards the building that is a theatre play and theatre play that is a building.
You are invited to visit the School, meet the participants and have a look at their work also before the opening of HALL07, starting from 5 September.
Festival School and HALL07 is part of the scenography and performance space programme B13 at the former school building on Briāna street 13 that looks at scenography as an autonomous and collective artistic practice. It's an activity of the international co-operation project EMERGENCE supported by the EU programme Creative Europe.
Credits
Idea and curation: TAAT collective – Breg Horemans, Gert-Jan Stam
Authors: Carolina Arandia, María Arnardóttir, Ariane Chapelet, Ģirts Dubults, Ieva Gaurilčikaite, Mārtiņš Gūtmanis, Eva Krūmiņa, Ivan Kurkin, Israel Lopez, Pichaya Puapoomcharoen, Danica Selem, Jānis Strapcāns, Efrosini Tsiritaki, Goda Verikaite, Līga Zepa
Contributors: Dominic Huber, Sodja Lotker
Photo: James Stephenson
Production: Klinta Harju, Latvijas Jaunā teātra institūts, Ilona van den Brekel, TAAT
Image: Jim Stephenson
A house on Briāna street 13
Supported by