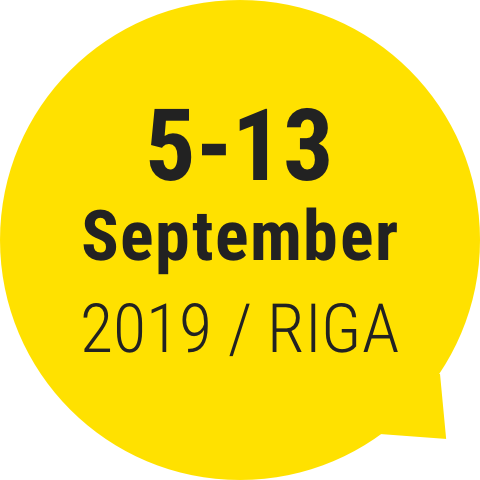 Programme
Hannah
Verdensteatret (Oslo)
6, 7, 9 September 19:00 D.FAB, Slokas iela 52 | 8 September 15:00 and 19:00 D.FAB, Slokas iela 52 | € 15 / € 10
'Hannah' is the latest work by the Norwegian theatre company 'Verdensteatret', a hybrid of a performance, concert and installation, in which the entire space is being played as one polyphonic audiovisual instrument. Inspired by the gradual unfolding of geological time, the material acts as a kind of sedimentation process, drawing attention to gentle transformations and the way physical objects affect their surroundings over extremely long time spans.
In 2016, after a decade since their last visit, the artists returned to the Mekong river delta in Vietnam. Memories, the landscape and the gathered material inspired them to make 'Hannah', a performance that brings together everything 'Verdensteatret' is known for: kinetic sculptures, video and sound composition, and fragility as one of the elements that holds together their world, preventing it from falling apart.
'Hannah' is a slow, ever changing landscape that resembles a place where people have not yet arrived, or vice versa, have already left behind.
The performance is suitable for schoolchildren and adolescents.
About the artist
'Verdensteatret' is an artist collective based in Oslo. The group's continuous artistry has been established over the last 30 years. The group was founded in Bergen in 1986 by Lisbeth J. Bodd and Asle Nilsen, with background from respectively theatre and visual art.
Today the group consists of artists representing many different artistic genres and professions. They endeavour to use a collaborative process to deeply integrate different artistic disciplines into projects that bridge the gap between artistic boarders.
'Verdensteatret's' poetics are characterized by an ongoing experimentation within different medias by building complex links between seemingly incompatible technologies and materials. An experimental use of audiovisual technology in close dialogue with more traditional tools of artistic expression results in large scale orchestral works and space-related musical compositions.
Credits
By and with: Asle Nilsen, Piotr Pajchel, Eirik Blekesaune, Torgrim Torve, Niklas Adam, Janne Kruse, Ali Djabbary, Martin Taxt, Elisabeth Carmen Gmeiner, HC Gilje, Magnus Bugge and Laurent Ravot
Supported by The Norwegian Arts Council and Performing Arts Hub Norway
Image: Jenny Berger Myhre
Supported by



* Reduced price for schoolchildren, students, seniors, people with disabilities