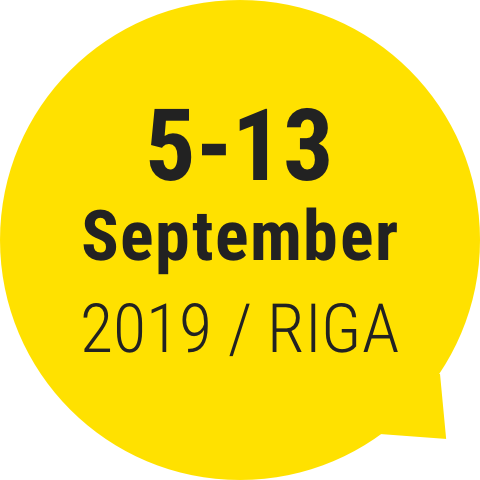 Programme
Voice
Tetsuya Umeda (Osaka)
9, 10, 11 September 17:00-21:00, Concert venue Tu jau zini Kur | € 10 / € 7
What strikes most about Japanese artist Tetsuya Umeda's work, is his wildly imaginative and inventive way with objects, using low-level technology approach. In his hands, the objects like tine cans, buckets, light bulbs start a life on their own, regardless their traditional purpose. To experience his installations is like entering a science lab with a busy professor – Umeda playfully orchestrates not only objects, but also natural phenomenas. Here water evaporating or smoke rising will generate a string of actions, gradually building delicate and rich environments where the human is a witness and collaborator, but never the one in control.
In Riga, Umeda will create a durational concert-installation using 50 empty rice cans. The creation of sound by heating the cans dates 2000 years back to ancient Japanese ritual where this was a way of telling the future and the sound was believed to be the voice of god.
About the artist
Resourceful and ceaselessly inventive, Japanese artist Tetsuya Umeda has for years been creating installations and performances by repurposing objects and deploying them to highly eccentric ends. Umeda's work focuses on the creation of rich and dynamic environments through the combination of architectural structures, sound and light, and their impact on human perception.
Often operating outside of the gallery environment, Umeda has collaborated with artists in various mediums, including music and theatre both in Asia, Europe and America. In theatre context, he has been exploring ideas of deterritorialisation and spatial relationals. His recent performance works include a night boat cruise tour piece "7 Ships" (Osaka, 2016), "Internship" (Asia Culture Center, Gwangju, 2016 / TPAM 2018, Kanagawa Arts Theater, 2018), "Composite" (Kunstenfestivaldesarts, Brussels, 2017), "Ringo" (Liveworks2017, Sydney, 2017, Munchner Kammerspiele, Munich 2018, Push festival, Vancouver 2019), and "Water Running Upwards" (Wiesbaden Biennale, Wiesbaden, 2018).
Credits
Idea, creation, performance: Tetsuya Umeda
Assistents: Elīna Valdmane, Fairuz Sulaiman
Concert venue Tu jau zini Kur
Run time
4h / Artists will be present during the total duration and audience is welcome to arrive and leave when they please
Concert venue Tu jau zini Kur
Supported by



* Reduced price for students, seniors, people with disabilities