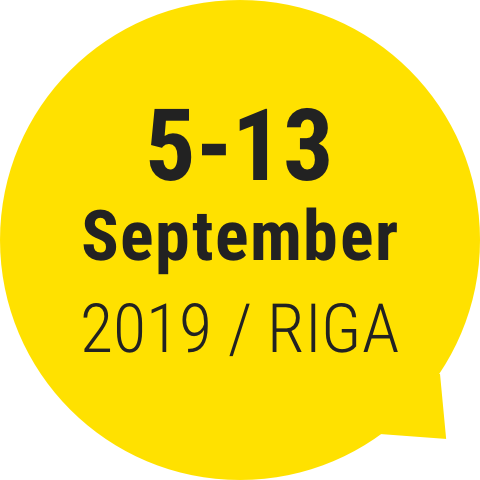 Programme
Festival Meetings
Workshops, talks, encounters
5 - 13 September Various tames and places | Free entrance
All events of this programme are in English and have free admission.
No registration required
6 September 16:00, House on Aristida Briāna street 13
On spies, ghosts and Japanese in Riga
Director Akira Takayama (Tokyo) in conversation with publicist Santa Remere (Riga) on making of "Heterotopia Riga" and his artistic practice
7 September 14:00, Festival Centre at Fon Stricka villa, Aristida Briāna street 9
The Borders of a Festival
Starting from the concept of Heterotopia, resonating in one of the projects of Homo Novus festival, Daniel Blanga Gubbay, curator of Sonic Dawn and co-director of Kunstenfestivaldesarts Brussels shares a reflection starting from the notion of the festival as 'other space'. Through the categories of Exception, Excess, Guest and Host this talk opens a conversation on the idea of the festival, and its possibility to challenge its spatial and temporal borders.
7 September 15:30, Festival Centre at Fon Stricka villa, Aristida Briāna street 9
Meet participants of Possible Futures Forum – young performing arts curators and producers who are gathering in Riga to discuss artistic, ethical and political aspects of their profession.
8 September 15:00, Festival Centre at Fon Stricka villa, Aristida Briāna street 9
Staging an Audience
Scenographer and theatre maker Dominic Huber (Zurich) will present wide range of projects that show various levels of observation, participation and immersion for an audience. His theory is that by structuring space and time as a director or scenographer you'd need to script and direct the part of the audience as much as the performers and actors on stage. Dramaturge and former artistic director of Prague Quadrennial Sodja Lotker (Prague) will join the conversation.
9 September 14:00, Festival Centre at Fon Stricka villa, Aristida Briāna street 9
Ohh (Tips and Instructions)
Work in Progress presentation by theatre maker Jānis Balodis (Riga), the second year student at DAS Theatre Amsterdam.
9 September 16:00, Festival Centre at Fon Stricka villa, Aristida Briāna street 9
Talk by Walid Raad
In this artist talk, Walid Raad (New York) will introduce his Sweet Talk and Scratching on Things I Could Disavow (2007-).
12 September 14:00, Festival Centre at Fon Stricka villa, Aristida Briāna street 9
Life As We Know It
Work in Progress presentation/ sharing by Maija Hirvanen and Juha Valkeapää (Helsinki) after creative residency in Riga. Coming from the fields of choreography and performance, Juha and Maija have followed each others work for a decade, and are now making their first joined project together. "Our ability to start something new throughout our whole life depends on our capability to renew ourselves", tell the artists about this project.
12 September 16:00, Festival Centre at Fon Stricka villa, Aristida Briāna street 9
Festival as School. School as an Artistic Practice.
Meet the Festival School participants to discuss their School experience and alternative ways of learning, knowledge exchange and collective artistic practice.
Registration required
To participate in one of the following workshops please register before 28 August by sending an email to nora.rause@gmail.com including name of the workshop, your name, contact information, field of study/professional work and short motivation in Latvian or English.
Info: 67228477
7 September 12:00-14:00 place tbc
Workshop with contact Gonzo
contact Gonzo has developed a unique, highly physical style that blends elements of parkour, contact improvisation, performance and team sports. It's violent and tender, very funny and very serious. The participants are not required to have any previous dance skills, but a good physical condition, open mind and respectful attitude.
7 September 20:00-21:00 D.FAB, Slokas street 52
An evening with Verdensteatret
Introduction to Verdensteatret artistic method: how different objects are made and function on stage, how different elements are interacting and colliding.
The meeting is open to students and young professionals from different artistic disciplines interested in collaboration with material world, imaginary structures and landscapes.
8 September 15:00-18:00, Festival Centre at Fon Stricka villa, Aristida Briāna street 9
Narrating Spaces
Scenography masterclass with Dominic Huber
Swiss scenographer and theatre maker Dominic Huber (Zurich) believes that we remember spaces more precisely than timelines. In a rotating speed-dating set up workshop participants will tell each others some details and stories of places from their childhood. With each round they start to adopt the narration of others and blend them into their own memories. What is memory? What is projection? What is a good story? And how can spaces be the a tool for storytelling?
The work of stage designer and director Dominic Huber opens new zones of the performative. His preferred sites are spaces that not only can be seen by the audience, but entered and experienced by individuals or entire groups. Very much in the sense of augmented reality, they work on expanding experiences of the senses, artistically modifying, activating, and manipulating actual spaces and situations. As a result, the audience actively engages with and explores surprising characteristics of their surroundings. The workshop will begin with public presentation of Dominic's work.
Scenographers, theatre makers and artists interested in theatre space are invited to participate.
11 September 14:00-16:00 H2O6, Durbes street 4
Workshop with Branch Nebula
The creative team of Branch Nebula have been exploring how objects and the body collide in risky situations. At the workshop they will share some techniques for controlled falling, stages of preparation for a risky manoeuvre, and escape routes. The workshop participants are invited to prepare by bringing materials and objects that they would like to work with.
This is a workshop for students and emerging artists working with movement, circus, contemporary dance and street art.